DOES FRASER ISLAND NEED A WILDLIFE CARE CENTRE?
(THE WILDLIFE CARE CENTRE IS CURRENTLY ON HOLD DUE TO THE LACK OF GOVERNMENT SUPPORT. DONATIONS ARE NOW BEING DIRECTED TOWARDS ASSISTING IN RESEARCH PROJECTS.)
Fraser Island was inscribed on the World Heritage List in 1992 in recognition of its unique flora and fauna. Under the Environment Protection and Biodiversity Conservation Act 1999 all World Heritage properties in Australia are considered 'matters of national environmental significance' and therefore caretakers of these properties are bound by a duty of care to protect the fauna within the National Park Estate.
Fraser Island is abundant in wildlife. Birds are the most prolific form of animal life on the island. More than 350 species have been recorded, including the endangered ground parrot. It is also a particularly important site for migratory wading birds.
The Island is also home to approx. 50 species of terrestrial mammals, some of which are classified as rare or vulnerable.
The shores are visited by over 20 species of amphibian and the Island is home to 79 species of reptile, including 19 kinds of snakes.
Turtles/birds and other animals are often found tangled in discarded fishing line, injured by vehicle strike and many other trauma. Whilst some animals are treated by QPWS staff, most are left to their fate.
THIS IS UNACCEPTABLE IN A WORLD HERITAGE LISTED NATIONAL PARK..   
The Dingo population on the island is regarded as the most pure strain of dingo remaining in eastern Australia and Under the Nature Conservation Act 1992 Sections 17 and 62 of the Act, are provided legal protection as a 'natural resource'  of the Island, but that protection is limited.
Due to a lack of facilities, many injured animals do not receive medical treatment. Animals have been observed with fish hooks embedded, some causing serious infection. Current policy is to euthanase dingoes with broken limbs or other unspecified injuries, many of these injuries could be treated. There have also been reports of paralysis tick and other treatable illnesses. With proper facilities at hand it would minimize the loss of life for all wildlife on the Island.
SUPPORT AND FUNDRAISING.
Many individuals and Organisations have already expressed an interest in assisting:
Local Hospitals have indicated they may be able to supply equipment, such as humidicribs.
Local businesses have also offered to assist re construction and materials.
Vet Nurses, Wildlife Carers and Veterinarians have offered their services.
Respected Wildlife Organisations and Sanctuaries have endorsed this project and offered their support and assistance in fundraising.
SFID Inc is registered as an Environmental Organisation and is a member of the ACNC (Aust. Charities and Not for Profit Commission) enabling us to undertake tax deductible fundraising, and to apply for grants and sponsorship. We envisage the Care Facility could be wholly funded by the private sector but would also provide excellent Public Relations potential for the government.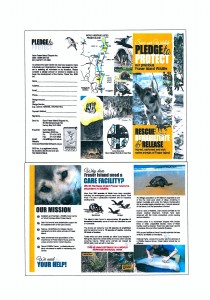 FRASER ISLAND CARE CENTRE PLEDGE BROCHURE: We now have available a brochure regarding a proposed Care Centre for Fraser Island..It is unacceptable that there is presently no facility to treat sick or injured animals. The Minister is amenable to this facility, but we need to provide a 10 year business plan and convince the government this is a viable enterprise.
Therefore we are asking for assistance from the Community. We are asking for a PLEDGE, whether it be services, equipment or cash donations. You can print this brochure or order copies directly from our Secretary. Thank you all for your support. (we do not expect cash donations at this stage, but any monies received in advance will go directly into a Trust Account. CLICK HERE  to download brochure.
THE WILDLIFE CARE CENTRE PROJECT  IS CURRENTLY ON HOLD