Why does SFID need donations?                       
ALL DONATIONS $2.00 AND OVER ARE TAX DEDUCTIBLE…
SFID is a registered not for profit organisation, all monies raised go directly towards promoting and protecting the Fraser Island Dingo, our aim is to….
Recruit individuals and organisations with necessary skills and abilities to assist with the conservation of the Fraser Island Dingo in the wild.
Encourage and promote Government and Legislative Policy change to ensure the protection and survival of the Fraser Island Dingo in the wild.
Assist with Education programs to ensure the Fraser Island Dingo maintains its status on the Island as a native animal.
Ensure the Fraser Island Dingo remains an integral part of the World Heritage listed status it enjoyed at the original listing.
Fund specific research trips to the Island, with the assistance of expert volunteers.
Fund urgently needed external and independent scientists and veterinarians to assist in analysing  data, including incident reports, tag registers, and necropsy reports.
We need urgent figures on prey availability, analysis done on DNA/scat to determine dingoes' current diet and sustainability of food/prey sources.
Detailed research on visitor attitudes and their understanding of the dingo behaviour must be undertaken in order to develop clear educational material. This will inevitably improve human/dingo interaction.
A wildlife Care Centre is urgently needed, and a Cultural Centre is a long term goal.
To achieve these goals we need assistance from the public
CLICK HERE To see WILDLIFE CARE CENTRE PAGE..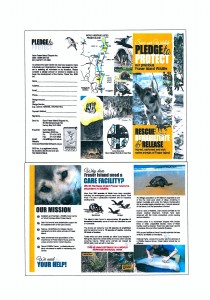 FRASER ISLAND CARE CENTRE PLEDGE BROCHURE: We now have available a brochure regarding a proposed Care Centre for Fraser Island..It is unacceptable that there is presently no facility to treat sick or injured animals. The Minister is amenable to this facility, but we need to provide a 10 year business plan and convince the government this is a viable enterprise.
Therefore we are asking for assistance from the Community. We are asking for a PLEDGE, whether it be services, equipment or cash donations. You can print this brochure or order copies directly from our Secretary. Thank you all for your support. (we do not expect cash donations at this stage, but any monies received in advance will go directly into a Trust Account. CLICK HERE to download brochure.
Bequests.

                                                     
Making a Testamentary Gift through your Will to Save Fraser Island Dingoes Inc.
Leaving a Legacy..
Bequests make a difference. By leaving a gift in your Will you can help to ensure the conservation and preservation of our unique and iconic Fraser Island dingoes. Your Legacy will live on..even a small donation can have a large impact.
It is important to discuss any bequest you wish to make to Save Fraser Island Dingoes Inc with your Solicitor as part of your Will making process so that your individual circumstances may be addressed.
We do not have a prescribed clause, but recommend that the following should be acceptable to your Solicitor:
"1.   I BEQUEATH the following specific legacies from all duties:
1.1   To Save Fraser Island Dingoes Inc. ABN:15369 628 753 Inc. No: 1A37577 CP 5365 he sum of $…. AND I DECLARE that the receipt of the Secretary, Treasurer or other proper officer thereof shall be a full and sufficient discharge to my Trustee for the said legacy and my Trustee shall not be bound to see to the application thereof."
 Once you have made a bequest we would appreciate that you let us know so we are aware of your generous gift.. If you would like to discuss your bequest or have any further questions please don't hesitate to contact us.
Email: mkrail@bigpond.net.au Ph: 07 4124 1979. Thank you for caring.
————
  Please join us: DOWNLOAD MEMBERSHIP FORM.
Donations can be made to: Westpac Bank Pialba, Hervey Bay.                                                   Save Fraser Island Dingoes Inc.  BSB 034-136 A/c NO. 303196
Or Donate
with Paypal