Save Fraser Island Dingoes – K'gari Wongari Winter Newsletter 2021.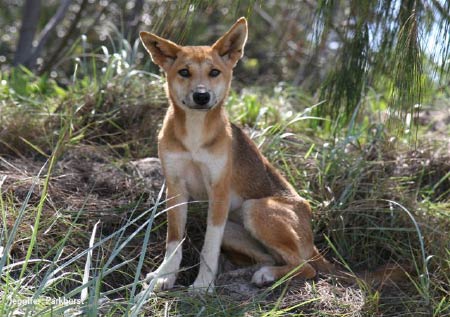 Historically, the dingo is thought to have arrived on mainland Australia approximately 5,000 years before present (BP) but recent molecular dating efforts based on mitochondrial divergence time suggest that dingoes could have arrived in Australia approximately 8,000–10,000 years BP (Cairns & Wilton, 2016;)
The dingo 'Canis dingo' is protected in Queensland National Parks as a native species. The Queensland Parks and Wildlife Service has a legal responsibility to conserve these populations on national parks and protected areas, even though the dingo is a declared pest outside of these areas
The Butchulla people have always known Fraser Island as 'K'gari'. According to the Dreamtime story K'gari was the name of a woman's spirit who helped in the creation of the lands and waters.
The dingo is known as 'Wongari' by the Indigenous Butchulla people.
The Butchulla perform smoking ceremonies for Wongari that die by the hand of humans, including vehicle strikes. "This sends them home to Sky Country where Biral (Supreme White Spirit) is waiting with a message through the smoke, to ensure their spirit doesn't walk in limbo without an understanding of what happened to them." No ceremony is held if they have been killed by another dingo or pack.